Do More For Your Whole Mouth
Colgate Total®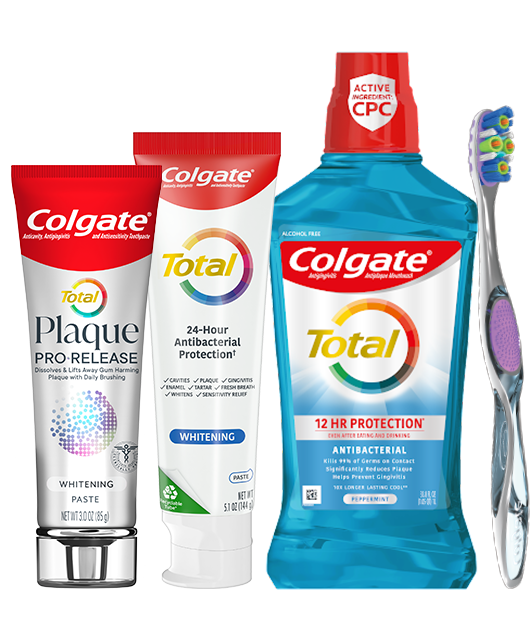 Clinically proven antibacterial protection for a healthier mouth*
*with twice daily brushing after 4 weeks of use (only toothpaste)
Want a healthier mouth? Colgate Total® multi-benefit toothpaste protects 100% of the mouth's surfaces - teeth, tongue, cheeks and gums. Our unique formula fights bacteria, prevents cavities and gingivitis, provides tartar control and strong enamel, whitens teeth, keeps breath fresh, and provides long-lasting sensitivity relief with continued use.
Your community may not yet accept tubes for recycling. Check locally. Learn more at colgate.com/goodness
FREQUENTLY ASKED QUESTIONS
Stannous fluoride is the only active ingredient used in the Colgate Total and it provides multiple benefits; namely, anti-cavity, gingivitis, and sensitivity benefits, without the need for any additional active ingredients. Stannous fluoride is unstable in the presence of water, which is commonly used in toothpaste formulation. Colgate Total has a unique inactive zinc phosphate system that enables stannous fluoride to remain stable and active in delivering its intended benefits.

All Colgate Total toothpastes contain a unique formula that helps fight today's most common dental and mouth problems including cavities, plaque, tartar buildup, gingivitis, bad breath and sensitivity. The Colgate Total breakthrough formula is patented and uses the active ingredient stannous fluoride, stabilized with a unique zinc phosphate system, to form a pro-active barrier that fights bacteria not just on teeth, but also on your tongue, cheeks & gums, so that your whole mouth is healthy.