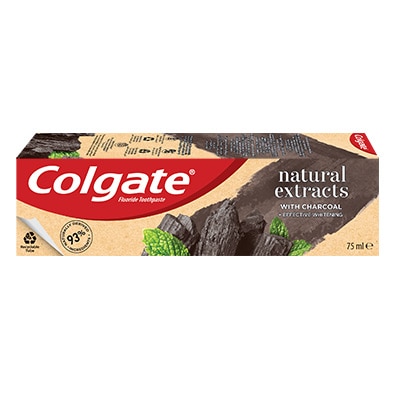 Colgate® Natural Extracts® Pure Clean Toothpaste with Activated Charcoal
Colgate® Natural Extracts® PURE CLEAN with Activated Charcoal and Mint for an uplifting clean mouth experience with icy sweet mint flavour.
Active Ingredients:
Aqua
Sorbitol
Hydrated Silica
PEG-12
Sodium Lauryl Sulfate
Aroma
Cellulose Gum
Calcium Pyrophosphate
Benzyl Alcohol
Potassium Hydroxide
Tetrasodium Pyrophosphate
Phosphoric Acid
Cocamidopropyl Betaine
Sodium Fluoride
Xanthan Gum
Sodium Saccharin
Charcoal Powder
Eugenol
Contains: Sodium Fluoride Total
Fluoride content: 1450 ppm.
With Activated Charcoal and Mint
Uplifting clean mouth experience
Squeeze the day with charcoal for a clean smile.