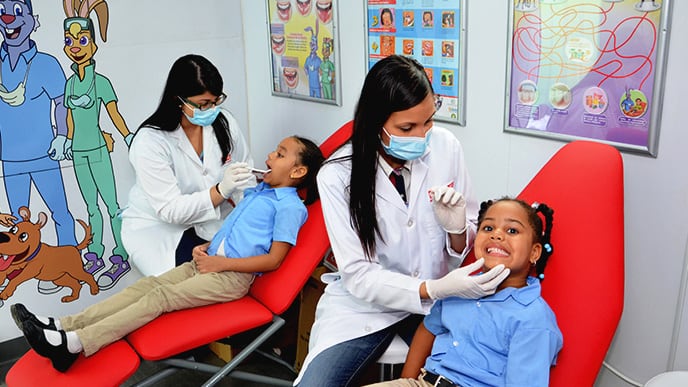 In the Philippines, Colgate Bright Smiles, Bright Futures® provides free dental screenings and oral health education to children through its fleet of mobile dental vans. These vans travel to rural and urban communities.
Usage of Mobile Dental Van are open to government, non- government agencies, and dental organizations that aim to intensify oral health awareness in the barangay, schools, public health centers and, hospitals by private nor public dental professionals.
Aboard the Mobile Dental Van
Colgate's mobile dental vans measure 22-feet long, nearly the size of a mobile home, and feature friendly visuals to help create a fun and less intimidating 'screening experience.'
With dental chairs aboard, Colgate's Bright Smiles, Bright Futures® screens two patients at a time, with the average screening lasting approximately two minutes. With the support of our volunteer dental professionals, children ranging in 6-12 years of age all receive free dental check-ups, treatment referrals (if needed), and learning materials that include a tube of Colgate® kid's toothpaste, a Colgate® kid's toothbrush and brushing instructions.
MOBILE DENTAL VAN SCHEDULE
Colgate Bright Smiles, Bright Futures® currently offers 2 state-of-the art, mobile dental vans that are equipped to screen children for common oral health conditions. These dental van are based in hub-cities and travel to selected areas in the Philippines to help raise awareness about the importance of children's dental health.