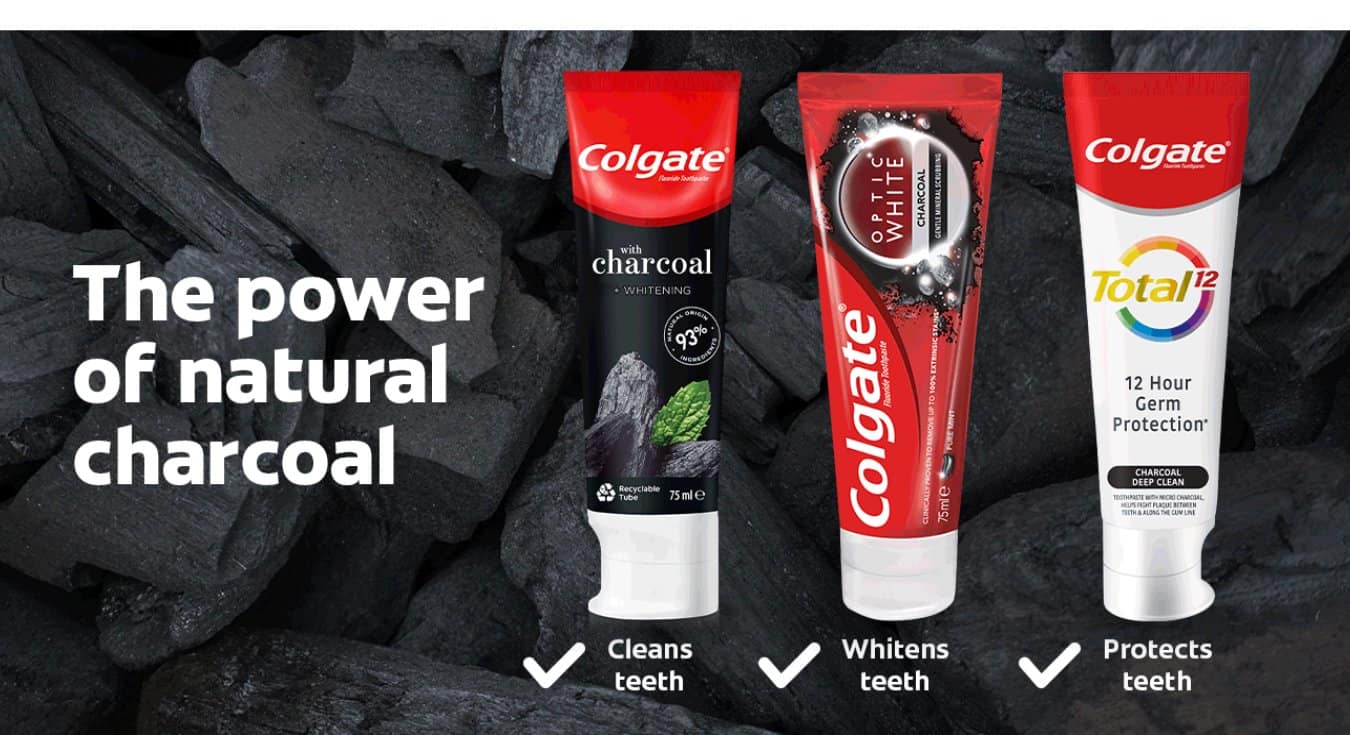 Charcoal is one of the biggest trends in the world of wellness and oral care (Healthline, 2019).

Colgate has now introduced three exciting charcoal based toothpastes.

Now you can harness all the benefits of charcoal to add more shine to your smile.

No matter what benefit you're looking for, we have a Charcoal toothpaste for it!

Colgate's Naturals Charcoal contains 93% Natural Origin ingredients, with environmentally friendly packaging. Introducing Colgate's first of its kind recyclable toothpaste tube together with a recyclable carton
Clinically proven to remove up to 100% surface stains*. With activated charcoal and gentle mineral micro-particles to help scrub surface stains away**. Enamel safe for daily use
*after 2 weeks twice daile use
**Use as directed for extrinsic stains only
Total 12 Charcoal deep clean with micro charcoal, helps fight plaque between teeth & along the gum line.
Breakthrough formula of Colgate Total with natural ingredients Zinc and Arginine provides 12 hour germ protection*.
*With 4 weeks continuous use
Total 12 Charcoal gives you 12 hour anti-germ protection* for your whole family. Now in a value pack which contains 2 x 75ml tubes! The new value pack is longer lasting** to give you more value for money. Try new Total12 Charcoal Value Pack, for you and your family.
*With 4 weeks continuous use

**vs Total 75ml
Colgate® Plax Charcoal 500ml Mouthwash provides advanced stain-protection power*** and long-lasting freshness. It is a clinically proven, 100% alcohol-free* anti-germ mouthwash that offers 12-in-1 benefits, as well as 24/7 protection from plaque**. Colgate® Plax Charcoal is formulated with stain prevention actives which inhibit stain formation on teeth therefore keeping teeth whiter for longer, compared to regular mouthwash that does not contain stain prevention actives
*This formula does not contain ethyl alcohol.
**when used twice daily
***vs regular mouthwash that does not contain stain-prevention actives