COLGATE BRIGHT SMILES, BRIGHT FUTURES®
Bringing education and smiles to children in need worldwide
COLGATE CARES

So far, we've reached more than 700 million children in 80 countries.

Through Colgate Bright Smiles, Bright Futures®, children in need receive free dental screenings and education to help build healthy habits, self-esteem and a foundation for success.

GAME ON

Keeping your smile healthy is fun with games from Dr. Rabbit and the Tooth Defenders.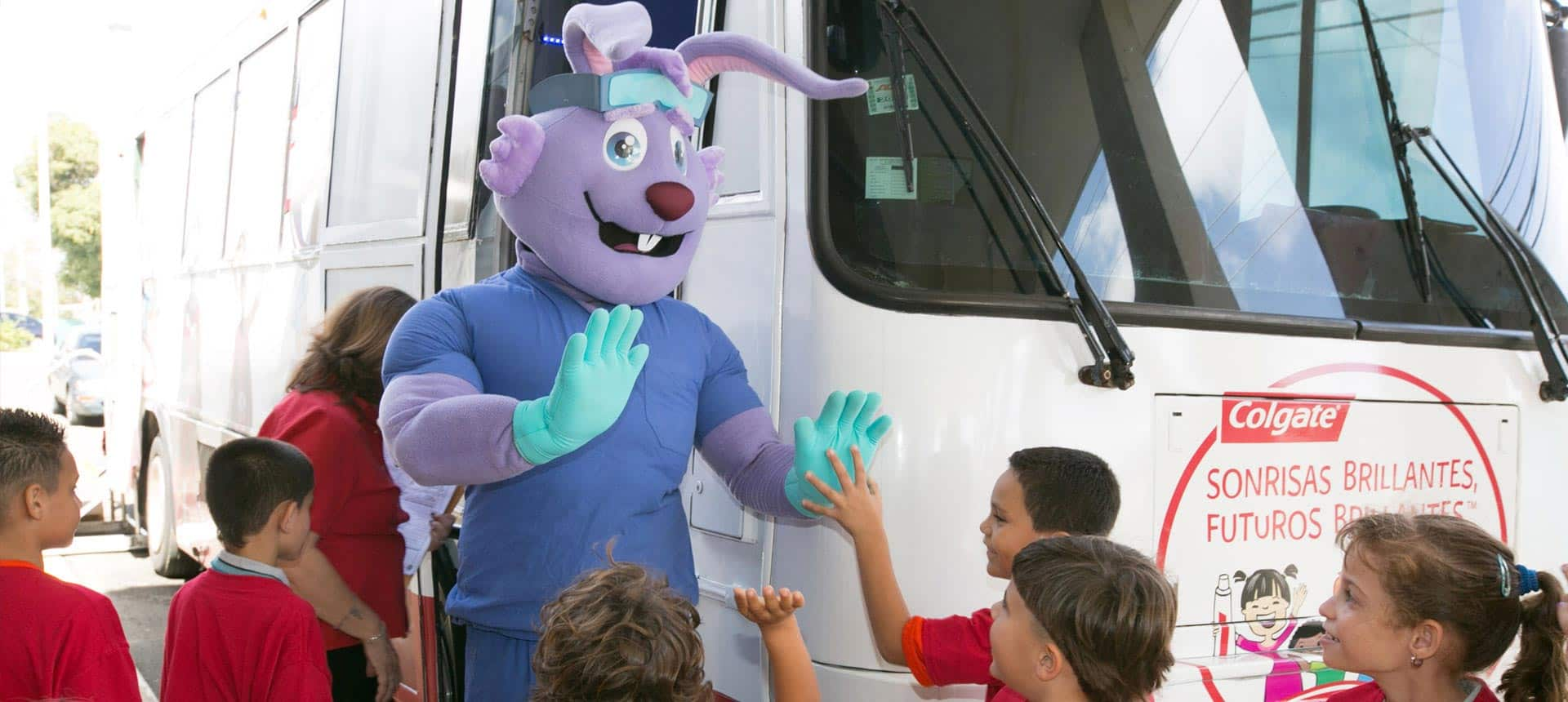 Colgate Reaches Children in Need Across The Globe With the Power of a Bright Smile.
Tooth decay is the most common chronic disease of childhood, causing pain, absence from school, and loss of confidence. Sadly, many children do not have access to basic dental care and the education needed to maintain good oral health. But the good news is that this disease is preventable.
COLGATE'S GLOBAL REACH
Each year, Colgate's Bright Smiles, Bright Futures™ program reaches 500 million children and their families across 80 countries with education and dental screenings. Bright Smiles, Bright Futures™ is among the most far reaching, successful children's oral health initiatives in the world. Through partnerships with governments, dental professionals, schools and community groups, Bright Smiles, Bright Futures™ program increases oral health literacy and promotes good oral care habits. Importantly, the program also encourages children to care about themselves and take responsibility for their own health. A lifetime of healthy habits, burgeoning self-esteem, a foundation for success - that's the Power of a Bright Smile.
In order to achieve these goals, Colgate has committed to spread the 4 basic oral health messages to children and parents world-wide. These are:
• Brushing their teeth thrice a day
• Using the right toothpaste (i.e., with adequate fluoride), like Colgate
• Limiting their intake of sweet and sticky snacks
• Visiting their dentists at least twice a year
AWARD WINNING CURRICULUM
The cornerstone of the program is an award winning educational curriculum developed with an international advisory board and translated into 30 languages. Delivered in partnerships with teachers, the curriculum includes instructions on how to brush and floss and the other keys to maintaining healthy teeth and gums. The program is supported by engaging games and videos that educate and entertain children. Distribution of a free tube of toothpaste and a toothbrush -- sometimes a child's first brush — is an important part of the program.
In the Philippines, Colgate adapted at Bright Smiles, Bright Futures™ Program as its flagship Corporate Social Responsibility Program. It has partnered with the Department of Education and Philippine Association of Dental Colleges to implement oral health projects that benefit Filipino children all over the archipelago.
For more than 10 years, Colgate, the Department of Education and various dental associations worked hand-in-hand to provide oral health awareness education and dental services to public school children nationwide.
The oral health education and awareness campaign includes the following efforts:
• Developing of oral health education and materials that have been integrated in the curriculum
• Providing of oral health materials such as posters, oral care kits, and toothbrush holders to public school children
• Mounting exciting events such as the Dr. Rabbit School Tour, Poster Making Contests and exciting tooth brushing drills and campaign nationwide.
• Celebrating the National Dental Health Month every February.
• Involving the media to amplify oral health campaign to reach more people nationwide.
Beyond its commitment to oral health education, Colgate Philippines has also provided oral health services to public school children in their respective communities. To date the program has reached close to 35 million public children nationwide.
MOBILE DENTAL CHECK UP CENTER
In many countries, Colgate Bright Smiles, Bright Futures™ is mobile. In the Philippines, a fleet of two mobile dental vans staffed by volunteer dentists to provide free dental screenings, and education to the community. Volunteers come through our partnership the Philippine Association of Dental Colleges and the Philippine Dental Association. Volunteer dentists have been serving the community through Bright Smiles, Bright Futures™ for more than 10 years.
Colgate, the world leader in oral care, has been committed to providing oral health education to children for more than 75 years. Through our flagship Bright Smiles Bright Futures™ global oral health education program and accompanying partnerships with governments, schools and communities, we help millions of children each year to enjoy the benefits of vital oral health education and preventive treatment. Now on its 20th year, Colgate's Bright Smiles, Bright Futures™ proudly continues its mission - promoting healthy oral health habits, strengthening the self-esteem of children, and establishing a foundation for a brighter future.
REACHING MILLIONS OF CHILDREN AROUND THE WORLD