When a smile brings so much joy, it's worth protecting with Colgate
COLGATE TOTAL* LINE OF PRODUCTS

The key to a healthy mouth is establishing an oral health routine. Take the first step with Colgate Total*.

COLGATE OPTIC WHITE® EXPRESS WHITE TOOTHPASTE

Dazzle without the hassle! Try Colgate's fastest whitening toothpaste ever, NEW Optic White® Express White
Explore our products by type to find the product that's right for you
View all the Colgate® brands to find the product that suits your needs

Colgate Total*
Take the first steps to a healthier mouth and lifestyle.
Helps Prevent:
Plaque and gingivitis (with Colgate Total* Toothpaste and Pro-Shield Mouthwash)
Tartar build-up (with Colgate Total* toothpaste)
Bad Breath
Always read and follow the label.

Go to Colgate Total*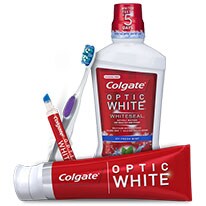 COLGATE® OPTIC WHITE®
Make your smile your best accessory.
BENEFITS:
High impact whitening products for a whiter smile – fast
Whiter teeth in 1 week* – or less with Optic White® toothpastes
Toothpaste fights cavities
*For best results, use as directed for 4 weeks.

Go to Colgate® Optic White®
COLGATE® ENAMEL HEALTH™
Helps replenish for stronger, healthy teeth.
BENEFITS:
Helps fill in weak spots with natural calcium
Gently polishes so bacteria are less likely to stick
Go to Colgate® Enamel Health™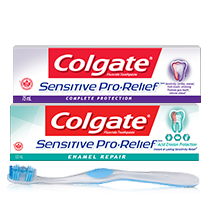 COLGATE® SENSITIVE PRO-RELIEFTM/MC
Toothpastes, Toothbrushes and Mouthwash formulated to help protect teeth from the pain associated with sensitive teeth.
BENEFITS:
Clinically proven sensitivity relief†
Instant relief from sensitivity with Colgate® Sensitive Pro-Relief ToothpasteTM/MC†
† For instant relief apply toothpaste directly to sensitive tooth and gently massage for 1 minute. Lasting relief with regular use. Fights cavities.

Go to Colgate® Sensitive Pro-Relief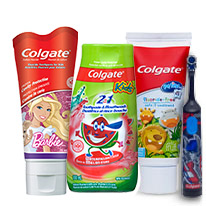 COLGATE® KIDS
Designed to make brushing fun, cool characters and flavours encourage kids to take care of their teeth.
BENEFITS:
Toothbrushes built to fit your child's mouth and hands
Safe toothpastes for every age
Toothpaste fights cavities
Go to Colgate® Kids
COLGATE® 360°®
Designed for a healthier whole mouth clean†
BENEFITS:
Functional head design to clean teeth, cheeks, gums and tongue
Angled neck for great reach
†Versus brushing teeth alone with an ordinary flat-trim toothbrush.

Go to Colgate® 360°®