Discover how to look after your kids' teeth at each stage of development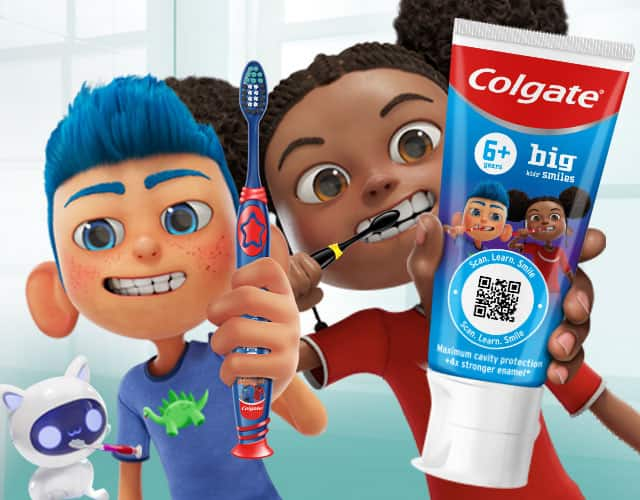 Get your kids brushing with Colgate Kids' Smiles Toothpaste and a Colgate Kids' Smiles Toothbrush for optimal oral care.

Maximum cavity protection + 4X stronger enamel*
*At 2 weeks mineral change compared to regular fluoride toothpaste
Frequenty Asked Questions
Kids' toothpaste is often different from adults' toothpaste, as it contains lower levels of fluoride to reduce the risk of swallowing too much of it. Kids toothpaste also often has child friendly flavours to help encourage your kids to brush their teeth. The Colgate Kids' range (First Smiles Kids' Toothpaste 0-2, Little Kids' Smiles Toothpaste 3+, Big Kids' Smiles Toothpaste 6+) is specially designed for children with appropriate levels of fluoride for specific age groups. All of our products provide age-specific recommendations to help you give your kids optimal dental care as they progress through different stages of development!

Children under the age of 3 years should use a smear of toothpaste. Once they're over the age of 3 it's recommended to use a pea-sized amount of toothpaste during supervised brushing. Our Colgate Kids Toothbrushes have coloured bristles to indicate the amount of toothpaste recommended for each age group.

A big part of making sure your child has healthy teeth as they grow older is to establish a regular brushing routine with them. It's recommended that your kids' teeth should be brushed once in the morning and once before bedtime every day, for at least two minutes.