A Colgate® Max White product
Colgate® Max White
Ultra Active Foam
Buy now
Whitening toothpaste with deep absorbing oxygenated action, clinically proven to give you whiter teeth in 3 days*!
new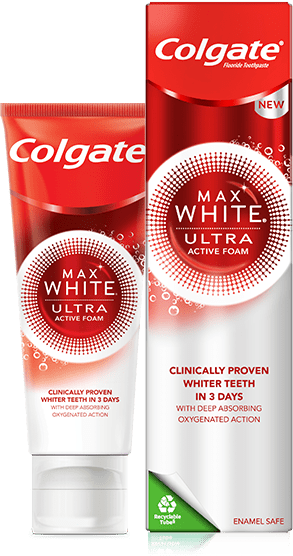 Max White Ultra
Active Foam
Buy now
---
Colgate, #1 Dentist Recommended Brand1
1Colgate Brand, Toothpaste, UK, Dentist Survey 2021. To verify contact ukverification@colpal.com
Benefits
Clinically proven whiter teeth in just 3 days*!
Experience the warming sensation and rich foam as the millions of free oxygen molecules smartly start working.
Zero abrasive whitening of deep stains that's safe to use every day.
*Stains caused by food and drink.
Ingredients
Poloxamer 105, Calcium Pyrophosphate, PEG-12, PEG/PPG-116/66 Copolymer, PVP, Silica, Tetrasodium Pyrophosphate, Aroma, Sodium Lauryl Sulfate, Sodium Monofluorophosphate, Potassium Caroate, Disodium Pyrophosphate, Sodium Saccharin, Cocamidopropyl Betaine, Sucralose, Magnesium Carbonate, Eugenol, Linalool.
Contains: Sodium Monofluorophosphate
Total Fluoride content: 1450 ppm
---