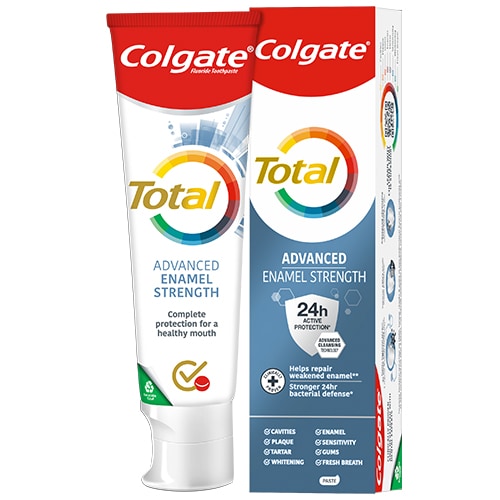 Colgate Total Advanced Enamel Strength
Colgate Total Advanced Enamel Strength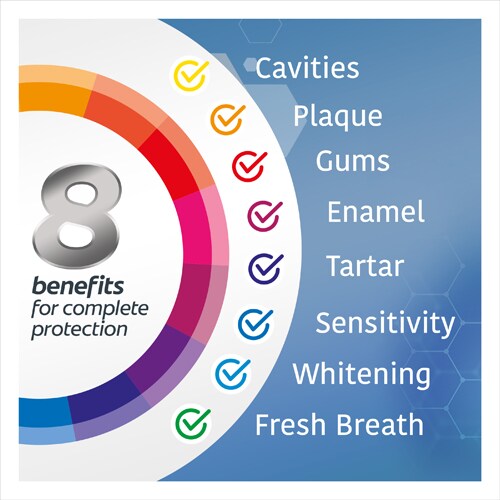 Colgate Total Advanced Enamel Strength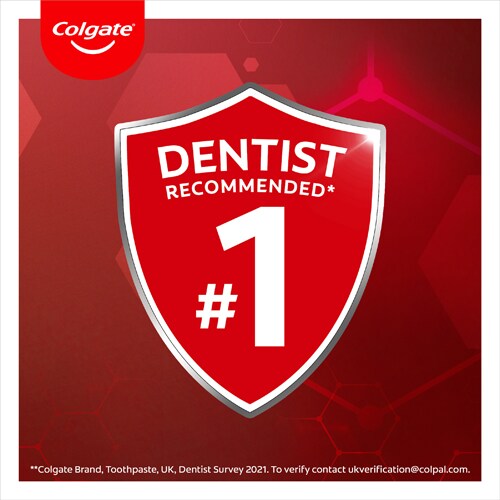 Colgate Total Advanced Enamel Strength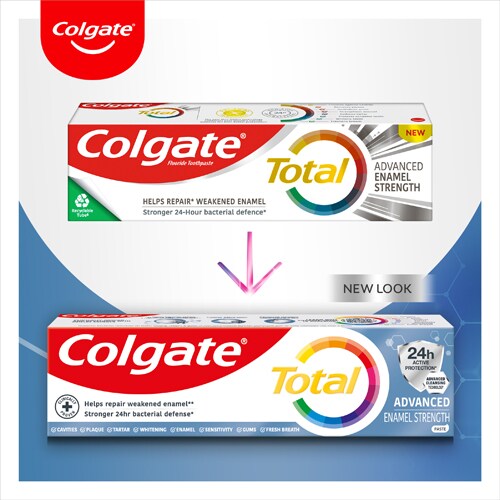 Colgate Total Advanced Enamel Strength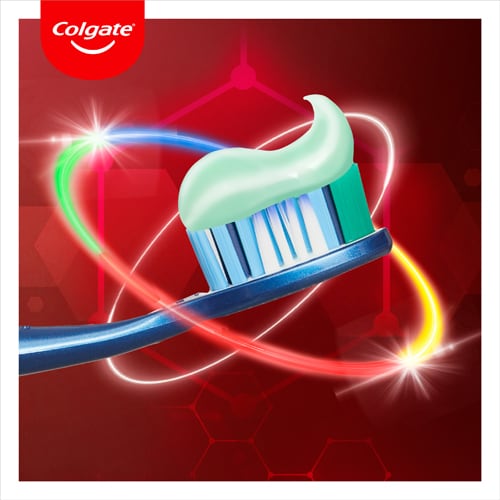 Colgate Total Advanced Enamel Strength
Colgate Total Advanced Enamel Strength
Colgate® Total Advanced Enamel Strength Toothpaste
Use Colgate Total Advanced Enamel Strength Toothpaste to help repair weakened enamel* and give yourself great whole mouth protection. Our enamel repair toothpaste provides superior 24 hour bacterial defence for your whole mouth**. It also fights plaque bacteria 3x more effectively than regular fluoride toothpaste*** and offers you 8 brilliant benefits.

Colgate, #1 Dentist Recommended Brand1
1Colgate Brand, Toothpaste, UK, Dentist Survey 2021. To verify contact ukverification@colpal.com
*In-vitro on weakened enamel, remineralises weakened enamel and promotes repair on daily enamel erosion.
*Superior bacterial reduction on teeth, tongue, cheeks and gums vs non-antibacterial fluoride toothpaste with 2x daily continued use after 4 weeks.
**Vs fluoride toothpaste (1450ppm), continued use after 3 months.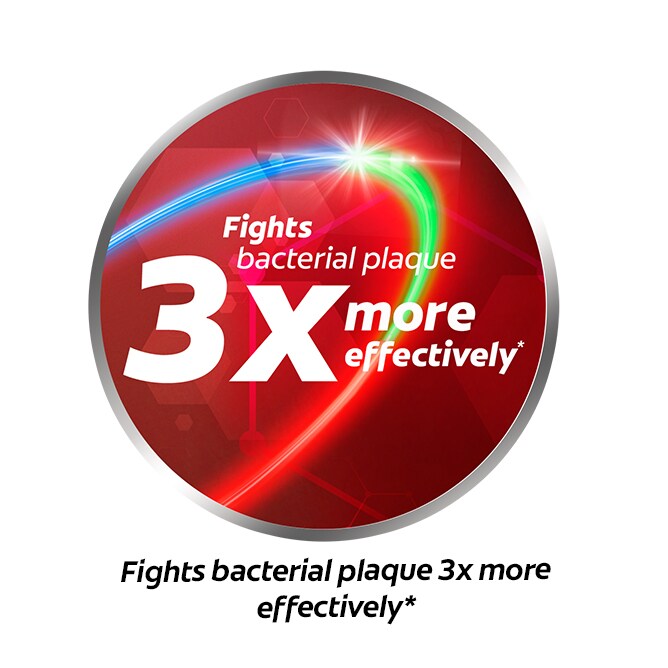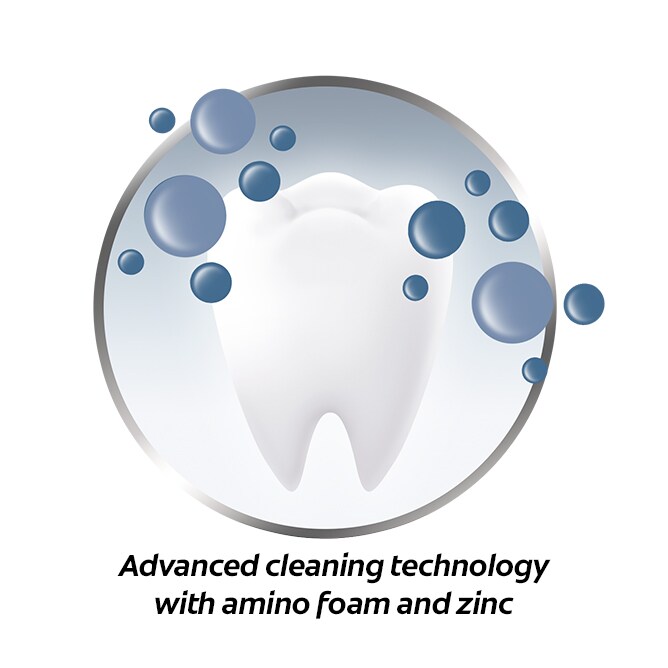 Why is it important to keep plaque bacteria under control?

Keeping bacterial plaque under control is important because plaque is the root cause of oral health problems. It can lead to tooth decay, gum disease, bad breath and even tooth loss if you don't manage it effectively. To keep it under control, it's important to practice good oral hygiene, including brushing your teeth twice a day with a highly effective antibacterial toothpaste, flossing and visiting your dental professional for regular checkups.

Why is Colgate Total different?

Colgate Total offers 8 great benefits for your whole mouth to provide up to 24-hours of active protection*. The 8 benefits have even been proven in at least six published clinical studies. The proven benefits include plaque control, gum inflammation reduction, tartar reduction, fresh breath, enamel protection, sensitivity reduction, whitening and cavity protection. The results of these clinical studies show how Colgate Total offers superior plaque control when you brush with it 2 twice a day.

*Continued use 2x/day after 6 months.

How does the Colgate Total formula work?

The Colgate Total formula, including dual zinc plus arginine formula and amino powered foam, has an effective antibacterial action. It works in these three ways: it penetrates the bacterial plaque, breaks it down for easier removal and prevents it from growing back. The result is 24-hours of whole mouth protection*.

*Continued use 2x/day after 6 months.
Glycerin

Hydrated Silica

Aqua

Sodium Methyl Cocoyl Taurate

Arginine

Aroma

Zinc Oxide

Cocamidopropyl Betaine

Calcium Pyrophosphate

Benzyl Alcohol

Xanthan Gum

Cellulose Gum

Zinc Citrate

Tetrasodium Pyrophosphate

Sodium Saccharin

Sodium Fluoride

Phosphoric Acid

Eugenol

Linalool

CI 74260

CI 77492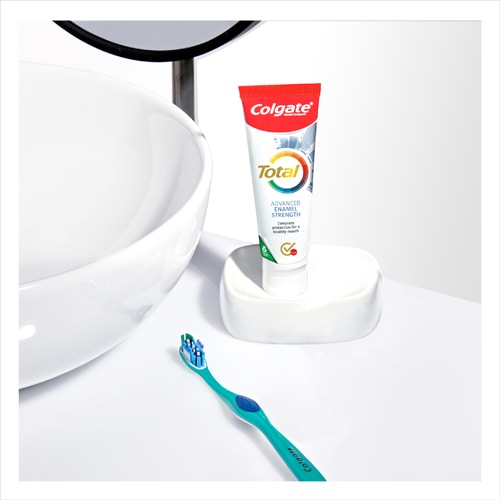 Brush thoroughly at least twice a day
Brush thoroughly at least twice a day or as directed by a dental professional. Not for use by children under 7 years old.