When a smile brings so much joy, it's worth protecting with Colgate
COLGATE TOTAL

®

LINE OF PRODUCTS

The key to a healthy mouth is establishing an oral health routine. Take the first step with Colgate Total®

COLGATE VISIBLE WHITE® EXPRESS WHITE TOOTHPASTE

Dazzle without the hassle! Try Colgate's fastest whitening toothpaste ever, NEW Optic White® Express White

COLGATE TOTAL® MOUTHWASH FOR GUM HEALTH

Make a healthy choice for your mouth and gums, try Colgate Total® Mouthwash for Gum Health.
Explore our products by type to find the product that's right for you
View all the Colgate
®

brands to find the product that suits your needs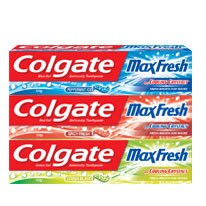 COLGATE® MAXFRESH®
Help wipe out bad breath with our freshest products
BENEFITS
Helps eliminate bad breath causing germs
Gently whitens teeth
Fights cavities
PRODUCTS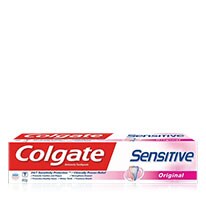 COLGATE SENSITIVE ® ORIGINAL
Provides clinically proven, everyday protection* from painful sensitivity.
BENEFITS
Clinically proven sensitivity relief*
Works for fast relief (within two weeks, with continued use)
Proven protection against cavities
*With continued use.

PRODUCTS