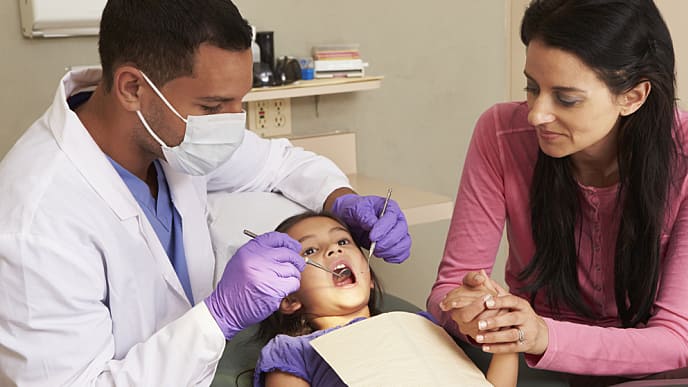 Pedodontist: A Dentist For Children
Just like with doctors, there are dentists who specialize in treating children, specifically those whose teeth are still in development. Here's why a dentist for children — otherwise known as a pediatric dentist — is a good choice for your child's oral health needs.
Educational Requirements for a Pediatric Dentist
Specializing in pediatric dentistry requires a two-year residency program after graduation from dental school. Consisting of deeper scientific studies along with hands-on experience, according to the The Dental Council of India (DCI), the core areas of study include Pediatric and Preventive Dentistry which, "...deals with prevention and treatment of oral and dental ailments that may occur during childhood."
Besides a rigorous residency program, pediatric dentists stay current by taking a number of continuing education courses each year.
Why Go to a Pediatric Dentist?
Pediatric dentists perform dental procedures that are similar to general dentists. However, because of their specialized training, they are equipped to handle many difficult behavioral situations and treat many types of patients, including infants, young children, adolescents and people with physical or mental disabilities.
Children respond to dental visits differently, and a child who is not used to going to the dentist may be anxious or fearful in unfamiliar surroundings. And when a young child or special needs person requires extensive dental treatment, sedation or general anesthesia may be necessary.
Pediatric Behavioral Guidance
Pediatric dentists commonly use behavioral guidance techniques on patients to alleviate any fear and anxiety, and in situations that may be painful. While there are many behavioral approaches, a pediatric dentist will always take into consideration the child's dental needs, their emotional and intellectual maturity, and a parent's preferences.
There are many methods that dentists use to effectively communicate with child patients. These technique often make the otherwise uncomfortable visit for a child to a dentist a convenient affair for both of them.
Positive reinforcement that praises patients for good behavior, encouraging them to weather a treatment that is both harmless and beneficial to them.
Tell-show-do that explains the treatment to the child in words they will understand, and then showing them in a simplified manner before starting the procedure.
Dentists may modify the tone or volume of their voice as well, allowing them to further soothe a child or redirect their attention. To build trust and demystify an appointment for a child, dentists also recommend children watch another patient undergo a process.
Choosing the Right Dentist
As a parent, you want the best and most enjoyable dental treatment for your child. Therefore, you are urged to ask questions before choosing your child's new dental home.
Ask if the dentist treats children and if he or she has specialized training in working with children. Is the office "kid-friendly?" An office that sees lots of children will be set up with toys, games and kid-sized furniture, allowing your child to play down their nerves before an appointment, and giving you the peace of mind that the staff know what they're doing.
Look for a conveniently located office, and be sure to ask about their policy for dental emergencies, especially after regular hours. If you have dental insurance for your child, it is good to know in advance how the office handles insurance claims. Your dentist may also suggest special types of fluoride your kids did not need at an earlier age.
Finally, explore dentists that are members of the Indian Dental Association and learn the advantages of those who belong to this organization.
If you feel that a dentist for children would benefit your little one, you can find a list of pediatric dentists in your area on the Practo website. Wherever you take your child for dental care, those with the experience you want can foster a trusting relationship and a positive attitude toward dental health care.
This article is intended to promote understanding of and knowledge about general oral health topics. It is not intended to be a substitute for professional advice, diagnosis or treatment. Always seek the advice of your dentist or other qualified healthcare provider with any questions you may have regarding a medical condition or treatment.