here's no one standard system in the dental field to measure and determine tooth color. Nor is there an exact answer to how white your teeth can become-every person's situation is unique. One commonly used reference tool, however, is a shade guide.
One of the more common shade guides divides tooth color into four basic shade ranges: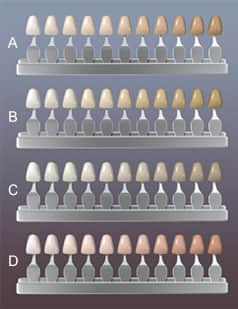 A (reddish brown)
B (reddish yellow)
C (gray)
D (reddish gray)
Within each range are different levels of darkness — which results in a chart detailed enough for almost everyone to find their exact tooth color on the guide.