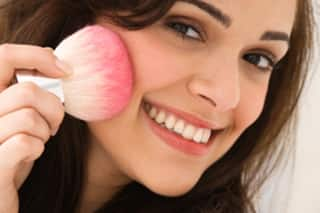 Your eyes are sparkling, your skin is gleaming, and your lips are beautiful. Yet something is missing… You forgot about your teeth!
Ladies, here are some tips to remember when applying make-up to help accentuate that lovely smile.
Choose your lipstick color wisely
Your lips are your main asset in any attempt to set your teeth sparkling. That's not surprising considering they are the closest feature to your teeth. They will draw the eye, so you want them to work for you. Stick to shades that emphasize the white tones of your teeth. Red, pink or berry-colored lipsticks are perfect, particularly if they have cool blue undertones.
Bronzer is your friend
If you think blush simply highlights the beauty of your cheeks — think again. Blush or bronzer can also change the general color of your skin and bring your smile into good light. There's no need to tan by the pool to get a healthy, sun-kissed look. Just apply a touch of bronzer, preferably one that doesn't have any golden sparkle to it, as that can enhance yellow tones.