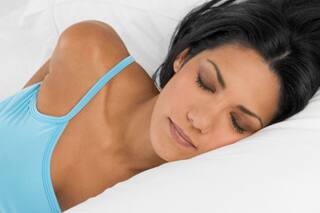 You may have a great routine for exercising, making dinner or getting to work in the morning, but what about your night-time teeth-cleaning routine? If you nail that, you'll go a long way in keeping your teeth white and healthy.
Go All-Out
You're going to bed for about eight hours (hopefully!). That's a third of a day without any dental care, so you want to ensure you go to sleep with teeth as clean and white as possible. So use as many of the best-quality weapons in your arsenal at home as possible. Some options include:
Colgate Visible White Toothpaste: Designed with whitening accelerators* which safely exfoliate stains and polish teeth surface. Colgate visible White Toothpaste provides a high performance cleaning system that gives you one shade whiter teeth in one week.** This toothpaste can also be used like any other one for daily oral care. Cavity protection, breath freshening and plaque reduction—it does it all.

*refers to silica and polyphosphates
**when used as directed, for extrinsic stains only

- Colgate Plax Mouthwash: Helps fight plaque build-up and clean hard-to-reach places for up to 12 hours by using a mouthwash to rinse your teeth, gums and tongue.
DID YOU KNOW?
Flossing was first promoted for improving dental health in 1815, by a dentist from New Orleans. Dr Parmly advised people to floss—using a silk thread.
Stay Hydrated
When you sleep, your mouth produces less saliva, causing dryness—especially if you breathe through your mouth, as many people do during sleep. It's one reason some people have terrible morning breath when they wake up. And saliva is important as its antibacterial properties protect your teeth from decay, and controls germs that might otherwise attack your lovely white teeth and gums. Make sure you take sips of water whenever you wake up during the night, or use a toothpaste that provides 12 hour germ protection like Colgate Total. If you're still feeling parched, investing in a humidifier might help.