Important Information About Mobile Dental Van Program
Dear Members of the Colgate Bright Smiles, Bright Futures Community:
In the midst of the COVID-19 (coronavirus) pandemic, Colgate remains committed to our value of caring — caring for our people, their families, their pets and the world we serve.
As of March 17, 2020 and in accordance with guidance from global health authorities, the Bright Smiles, Bright Futures (BSBF) Children's Oral Health Improvement Program has temporarily suspended all North America BSBF Dental Van Visits to ensure the safety of all students, schools, communities and staff members. Visits will be rescheduled for a later date.
Our educational materials, which can be filtered by age group, are available for download on ColgateBSBF.com for use by teachers, parents, professionals, and other community members. We are also exploring ways to provide critical oral health education virtually to students, teachers and families as many schools ramp up digital education programs for their students.
The BSBF team will continue to monitor this evolving situation and make adjustments to our program as needed. Our nation's public schools re-openings will be the key indicator as to when the BSBF van programs can return to full operation.
Sincerely,
Dr. Marsha Butler
Vice President
Oral Health & Professional Relations
BECOME A VOLUNTEERS
Interested in becoming a Colgate Bright Smiles, Bright Futures volunterr? Click here to take the firts step towards becoming a volunteer by completing our volunteer interested form
Click on a volunteer below to hear what volunteering with Colgate Bright Smiles, Bright Futures means to them.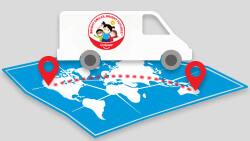 REQUEST A VAN VISIT
Want to see the Colgate Bright Smiles, Bright Futures van in a community near you? Click here to submit a request.