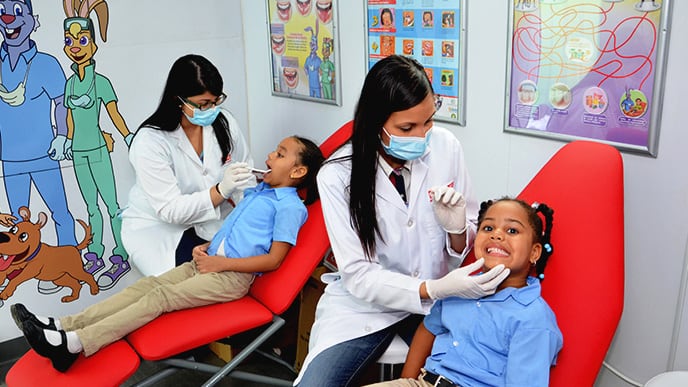 Colgate Bright Smiles, Bright Futures® currently offers nine state-of-the art, mobile dental vans that are equipped to screen more than 10 million children each year for common oral health conditions. These dental vans are based in hub-cities and travel to under-served rural and urban communities in the United States to help raise awareness about the importance of children's dental health.
Aboard the Mobile Dental Van
Colgate's mobile dental vans measure 32 feet long, nearly the size of a mobile home, and feature friendly visuals to help create a fun and less intimidating dental 'screening experience' to kids in rural and urban communities.
With two child-sized dental chairs aboard, Colgate's Bright Smiles, Bright Futures® screens two children at a time. The average dental screening lasts approximately two minutes. With the support of our volunteer dental professionals, children ranging from three to 12 years of age all receive free dental check-ups*, treatment referrals (if needed), and learning materials that include a tube of Colgate® kid's toothpaste, a Colgate® kid's toothbrush and brushing instructions.
*For children who are in need of treatment or who do not have a dentist, we provide referrals so they can visit a dentist in their area and take care of any issues and maintain a healthy mouth.