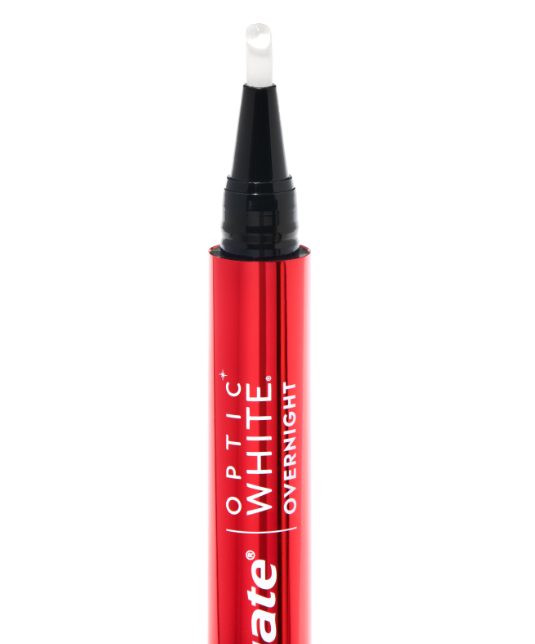 Colgate® Optic White®
Overnight Teeth Whitening Pen
There's a fast-approaching event and you need your smile to look its best. Enter the overnight whitening pen. And get ready to flash them your brightest smile.
Hydrogen Peroxide

This doctor-recommended whitening agent gently removes extrinsic stains on the enamel of the teeth as well as intrinsic stains inside the teeth when used as directed. The concentration of hydrogen peroxide in our Optic White® products make them effective and safe for at-home use.
Quickest Results

Some of our Optic White® products work more quickly than others to whiten teeth. We've flagged the products that offer quicker results, meaning they whiten teeth after ten days or less of usage. That includes our Overnight Whitening Pen and the Pro Series LED Tray.
Designed for No Tooth Sensitivity

Some people experience tooth sensitivity when using products containing hydrogen peroxide, though your degree of sensitivity depends on the product's formulation, dosage, concentration, and your individual health history. If you're worried about tooth sensitivity, talk to your dental professional and/or choose whitening products designed for sensitive teeth like Colgate's® Overnight Whitening Pen and Pro Series LED.
Precision Application

Our Overnight Whitening Pen lets you apply our whitening formula directly to the teeth you want to brighten for an easy and mess-free experience. Similarly, our Pro Series LED whitening kit comes with a comfortable, one-size-fits-all mouth tray designed to maximize your teeth's exposure to the whitening agent.
Enamel Safe

Enamel is the thin outer layer of the tooth and it needs protecting. That's why all of our Optic White® products are gentle enough to whiten teeth without damaging the tooth's surface.
Whitens Inside & Out

The patented whitening formula in our Pro Series, Renewal and Advanced toothpastes not only polishes away surface stains (extrinsic stains), but also removes stains beneath the tooth's surface (intrinsic) for deeper, whiter, and longer-lasting results.
Vegan

Many Colgate® products, such as the Optic White® Advanced Toothpaste, are vegan, meaning they do not use or contain products derived from animals.
Gluten-Free

Some of our whitening products, like our Overnight Whitening Pen, are gluten-free, meaning they don't include ingredients that contain gluten, which is a protein found in wheat and several other grains.
Sugar-Free

Although our Optic White® products may taste sweet, they do not contain sugar.
Frequently Asked Questions
Colgate® Optic White® Overnight Teeth Whitening Pen contains dentist-recommended hydrogen peroxide. Simply apply after your nightly oral care routine and let the hydrogen peroxide serum work while you sleep.

For the Colgate® Optic White® Overnight Teeth Whitening Pen, we recommend a minimum of four to six hours of contact with teeth, without any food or drink.

The Colgate® Optic White® Overnight Teeth Whitening Pen can last up to 35 days when used as directed. You can use the pen until it's finished.
Please scan following QR
code for the full experience

Our Award-Winning Whitening Pen
Best Teeth Whitening Kits
"For those who can't be bothered with a daytime treatment, brush on this comfortable serum and let it do the work overnight."

New Beauty Smile Care Category Award Winner