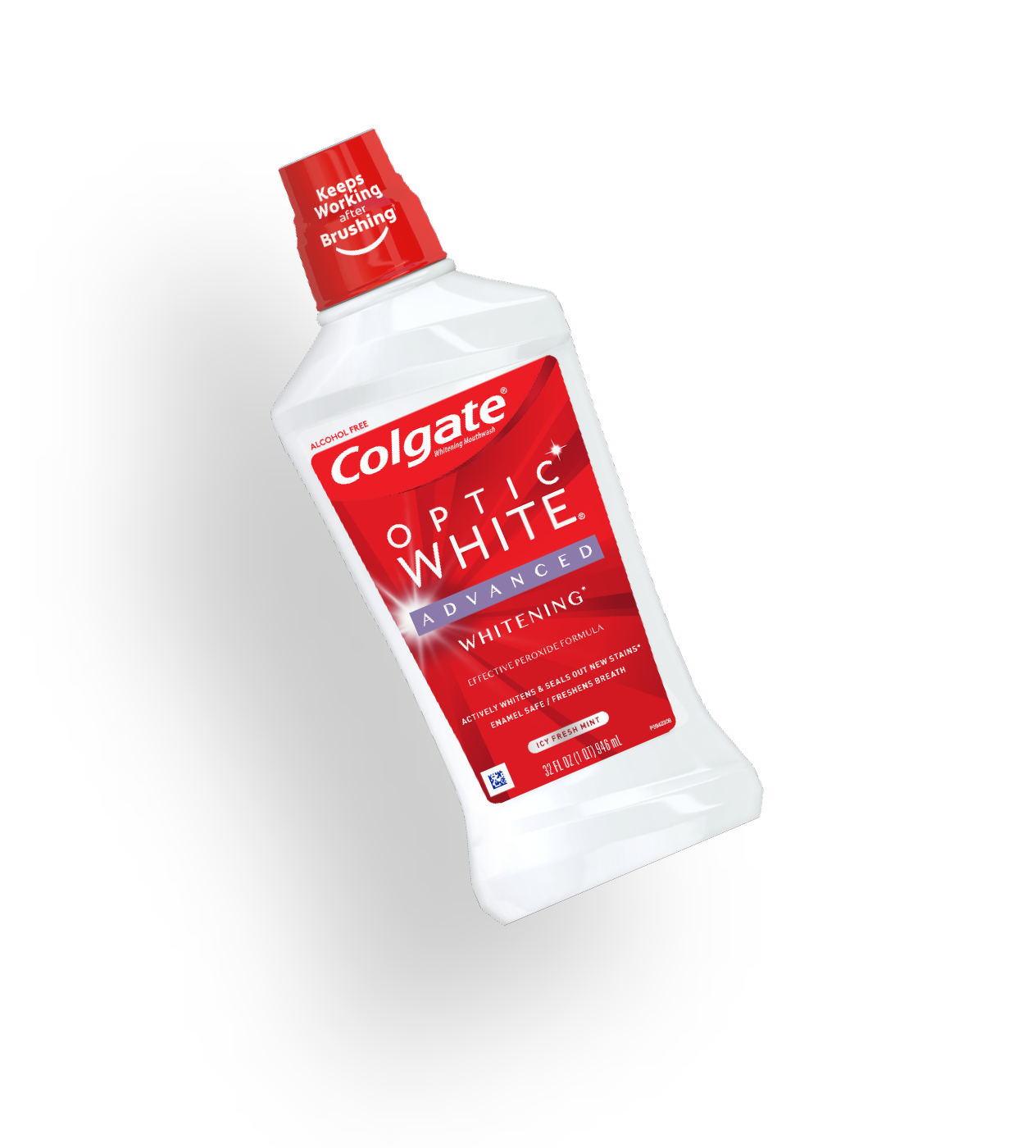 Colgate® Optic White®
Whitening Mouthwash
Can't wait to get a whiter smile? Then don't. Our whitening mouthwash is your fastest path to a whiter, brighter smile.
Hydrogen Peroxide

This doctor-recommended whitening agent gently removes extrinsic stains on the enamel of the teeth as well as intrinsic stains inside the teeth when used as directed. The concentration of hydrogen peroxide in our Optic White ® products make them effective and safe for at-home use.
For Sensitive Teeth

Some people experience tooth sensitivity when using products containing hydrogen peroxide, though your degree of sensitivity depends on the product's formulation, dosage, concentration, and your individual health history. If you're worried about tooth sensitivity, talk to your dental professional and/or choose whitening products designed for sensitive teeth like Colgate's® Overnight Whitening Pen and Pro Series LED.
Enamel Safe

Enamel is the thin outer layer of the tooth and it needs protecting. That's why all of our Optic White® products are gentle enough to whiten teeth without damaging the tooth's surface.
Alcohol Free

Because our Optic White® Whitening Mouthwash contains no alcohol or ethanol, it won't burn or leave a bad taste in your mouth.
Stain Prevention

In addition to polishing away surface stains, some Optic White® products, like the Stain Fighter toothpaste, also protect teeth from future stains, helping your teeth stay whiter longer.
Freshens Breath

Our Optic White® toothpastes and mouthwash come in a variety of flavors, including cool mint, that taste great and keep your mouth feeling clean and fresh.
Frequently Asked Questions
Whitening mouthwash can work for certain types of stains. Since the active ingredient, typically hydrogen peroxide, is diluted with water it can take a bit longer to remove surface stains versus using a whitening toothpaste.

Alcohol-free mouthwash targets bad breath bacteria while mouthwash with alcohol targets both good and bad breath bacteria. By using an alcohol-free mouthwash you're not only eliminating the burning sensation, you're also helping to protect the good bacteria in your mouth.

There are many different benefits to using mouthwash. In addition to freshening your breath, mouthwash can also whiten your teeth, reduce tooth sensitivity, fight gum disease, protect your teeth from cavities and even reduce dry mouth, depending on the ingredients.